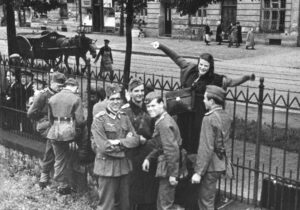 October 2nd, 2022 – February 26th, 2023
1st Floor Gallery
The White Rose is a circle of friends centered around the students including Sophie and Hans Scholl, Alexander Schmorell, Christoph Probst, and Willi Graf. Beginning in the summer of 1942, they write and distribute leaflets calling for opposition to the National Socialist (NS) dictatorship and an end to the war all over Munich. Supporters join the resistance group in other German cities, too, including professor Kurt Huber in late 1942. Seven members of the White Rose resistance are sentenced to death and executed by the NS judiciary beginning in February 1943. Around 60 fellow campaigners are tried in court and some of them sentenced to long terms in prison.
Today, the White Rose is one of the best-known German resistance groups. In times of National Socialist terror, they were driven by humanistic motives and appealed to the responsibility of every individual for freedom and justice.
This exhibition is part of the community-wide project, Out of Darkness: Holocaust Messages for Today. This includes programming for children and adults to counter these damaging issues by promoting dignity, diversity, equity, democratic values, human rights, and the power of the human spirit that are so badly needed today.