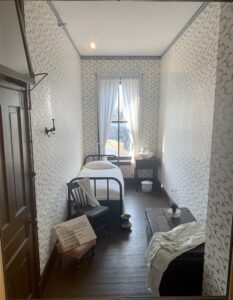 Permanent Exhibition
3rd Floor
In the mid-to-late 1800s millions of German citizens left their homeland for America. Scott County, Iowa, where the first passenger railroad crossed the Mississippi River, was the "Ellis Island" of the Midwest for many of these immigrants. Upon arrival, thousands stayed in the Standard Hotel, built in the 1860s and located on West 2nd and Gaines Streets in downtown Davenport. Learn about the people that came here and the impact they made on Davenport and the Midwest.
As part of the permanent exhibition, the Immigrant Passport Experience allows visitors to interact with the story of a real immigrant who picked up their entire life and immigrated to Davenport, in a variety of time periods. Each story speaks to a different experience, time period, age, and other circumstances of that person.
Visitors can learn what life was like back in Germany, the story of the journey they took across the ocean, and finally, how they planted roots here in Davenport and how they experienced our area generations ago.