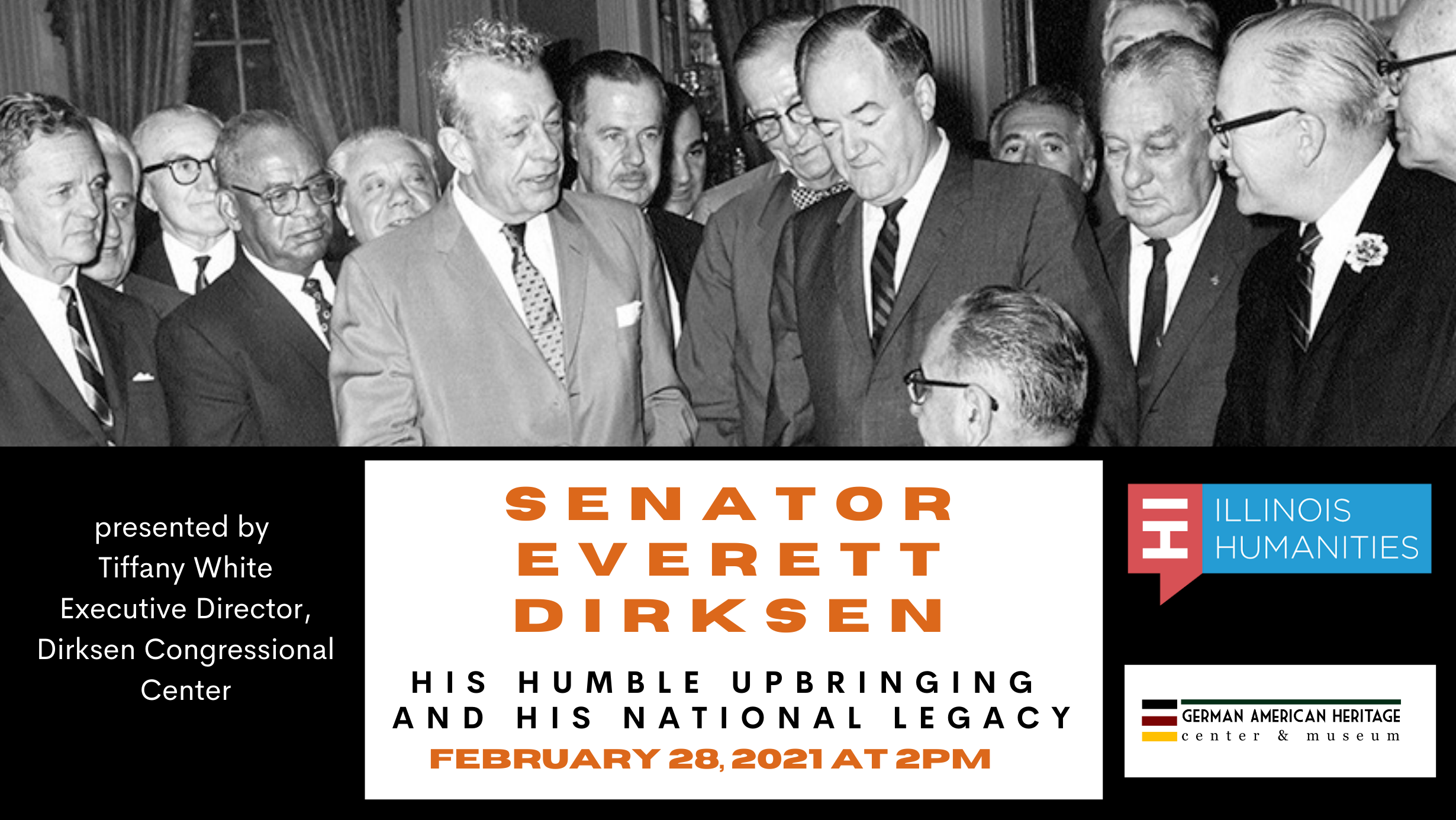 Senator Everett McKinley Dirksen was born in Pekin IL in 1896 to a first-generation German immigrant. Though he experienced an exceptionally humble Midwestern upbringing with more than its fair share of adversity, he rose to national prominence throughout his nearly four-decades tenure in the US Congress. With a larger-than-life personality, he was well-known for his speaking ability and unparalleled use of language to persuade and to inspire. He used these talents—among others—to become to most essential influence in the passage of the Civil Rights Act of 1964.
In response to a reporter's question about why he had taken such a lead role in the Civil Rights Act, he remarked: "I come from immigrant German stock. My mother stood on Ellis Island as a child of 17, with a tag around her neck directing that she be sent to Pekin, Illinois. Our family had opportunities in Illinois, and the essence of what we're trying to do in the Civil Rights bill is to see that others have opportunities in this country."
This presentation will explore the circumstances and stories of Dirksen's upbringing, and how they helped shaped his personality, his leadership style, and a destiny that he shared with the nation.
The presentation will stream live on Eventbrite on Sunday, February 28th at 2pm. A short Q+A will follow the presentation.
The presentation is free, but donations are greatly appreciated.
Register on Eventbrite.com
About the speaker:
Tiffany White currently serves as the Executive Director of the Dirksen Congressional Center, located in Everett McKinley Dirksen's hometown of Pekin, IL. Everett Dirksen served in the US House and US Senate throughout the course of nearly four decades, and was the Senate's Republican Minority Leader from 1959 until his death in 1969. He is best known for his indispensable role in ushering into law the Civil Rights Act of 1964. The Center is a non-partisan, not-for-profit organization with a mission to enhance the public's understanding of Congress, its people, and its policies.
Before assuming leadership of the Center in 2019, White served as Chief of Staff to Illinois State Representative Mike Unes. Previously, she was the Executive Director of Pekin Main Street, and also served for five years on staff in the 18th Congressional District office, where she managed immigration and State Department-related casework.
White is a 2008 graduate of the University of Illinois at Urbana Champaign, and a 2005 graduate of Pekin Community High School. She acquired a Bachelor's Degree in Political Science and Speech Communication, with minor concentrations in both American History and American Religious Studies. She is a 2010 Graduate of the R. David Tebben Leadership School (named after her late father and former Mayor of Pekin), and a member of the 2018 class of Peoria Magazine's 40 Leaders Under Forty.
White and her husband Ben live in Pekin with their three daughters: Jane (6), Claire (4), and Molly (1). White's hobbies include playing the piano, following the US Supreme Court, curating her best possible family life, and collecting dresses. She is an enthusiastic supporter of Fine Arts, and a devoted member of St. Paul United Church of Christ in Pekin.
Her approach to life is dedicated to Teddy Roosevelt's famous saying, that the best prize life has to offer is the chance to work hard at work worth doing.