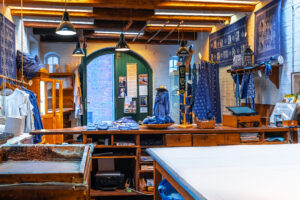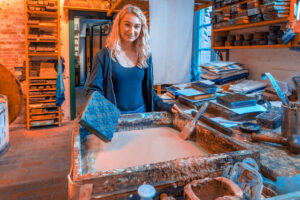 September 18th, 2022 – May 21st, 2023
3rd Floor Gallery
Blaudruck is a beautiful and tedious process that is a traditional folk art in Germany, Austria, Czechia, Hungary, and Slovakia. It translates to "blue print" and is a resist-dye technique used on textiles. This folk art traces its origins in Europe back to the 16th century. Blaudruck grew and was extremely popular in Europe through the 18th and 19th centuries.
During the industrial revolution, most of the dyeing workshops closed. There are now only a handful of family-owned and operated workshops left. In 2018, the Blaudruck technique became a part of the UNESCO's Representative List of the Intangible Cultural Heritage of Humanity. Traditional Blaudruck cannot be mass produced. When done properly, it is handmade to order by skilled artisans following the same techniques and using the same materials that have been used for centuries.
Learn about the history, process, and preservation of this special and traditional art form. This exhibition features textiles made at the Blaudruckerei in Jever, as well as a selection of objects from the National Czech and Slovak Museum and Library in Cedar Rapids, Iowa and the Amana Heritage Museum in Amana, Iowa.
This exhibition and partner programs are made possible by funding from Quad City Arts.