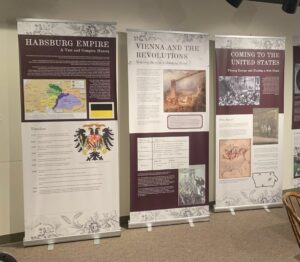 While the majority of immigrants to Davenport and Scott County came from Schleswig-Holstein and areas of what was then considered Germany, many others came from parts of the Austro-Hungarian Empire, ruled by the Habsburg dynasty. These Habsburg emigres played major roles in the settlement of Midwest, just as their German counterparts had. But why are they not as familiar in our knowledge of early Iowa? Why are their stories absent from many histories of the Midwest?
This significant emigration from the Habsburg Empire left a lasting impression on Davenport, Iowa, and the Upper Mississippi River Valley. Bringing the chronicles and accounts of these influential immigrants to light enriches the story of America and its connections to Austria and Hungary today. Their influence was significant to our history. The ideas of revolution and freedom that they brought with them impacted support and participation of skilled fighters and speakers on behalf of the abolitionists and Union Army in the United States Civil War. We can also find their experiences and contributions in newspaper editorials, salons of high-minded discussion, and even American West folklore.
This exhibit is dedicated to those "Hidden Habsburgs" who are lesser known for their contributions. Explore the exciting and varied experiences of these early immigrants to Iowa. Discover what brought them here, and ultimately how they disappeared from our history books.
This exhibition is designed for travel and we encourage institutions to inquire about a temporary loan of this exhibition.
This exhibition was made possible by funding from the Botstiber Institute for Austrian American Studies.

To view the virtual exhibit, see below. To download the virtual exhibit, click here.
Hidden Habsburgs PDF virtual exhibit by Kelly Lao