Iowa's Ethnic Heritage: A Brief Interactive History
August 21 @ 2:00 pm

-

3:00 pm

Free – $5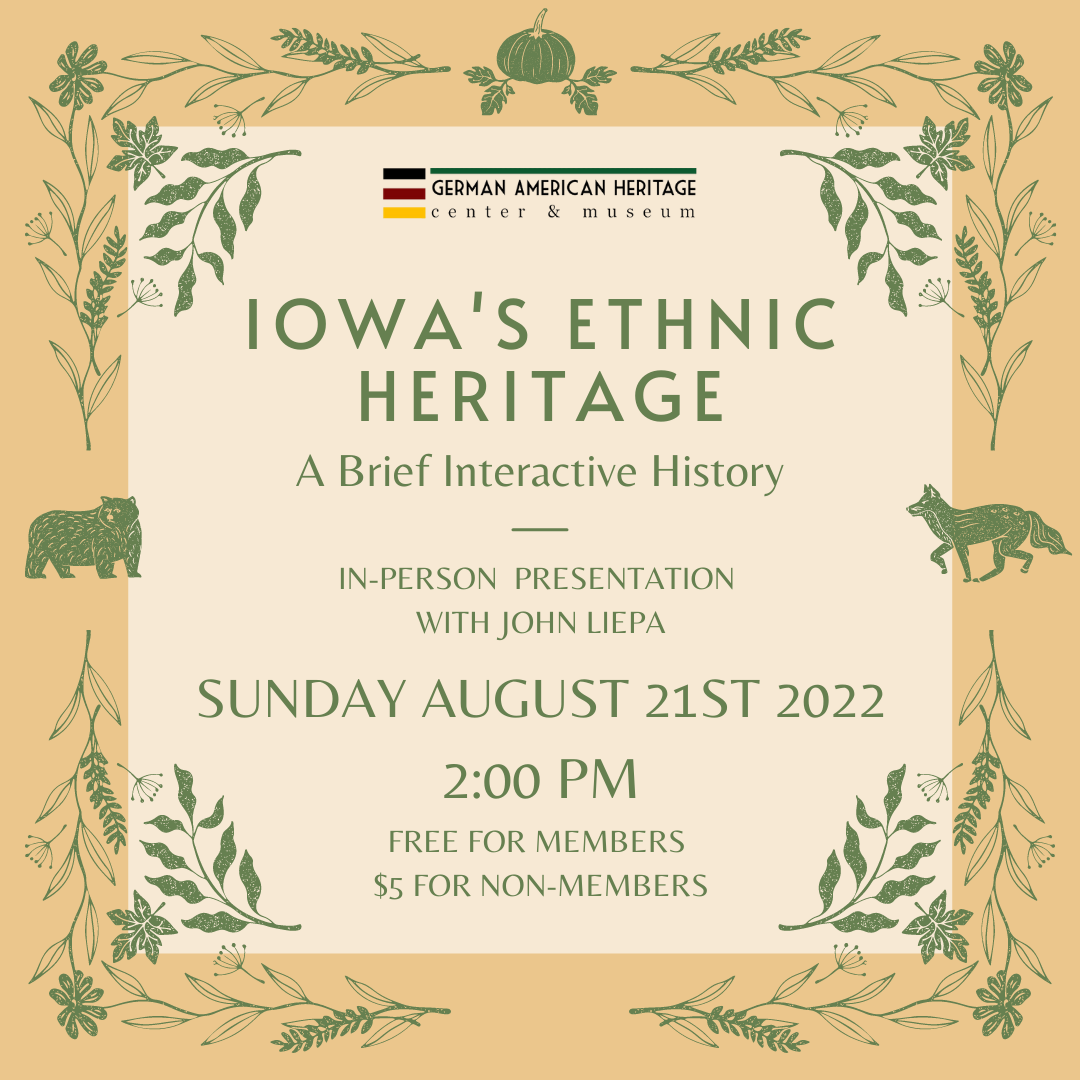 Enjoy the unfolding adventure of Iowa's immigration history from Native Americans to Spanish explorers to French trappers & traders; to German, Irish, & English immigrants; to more recent arrivals, including Sudanese, Bosnians, & Burmese – Iowa has had a long, rich, ethnic heritage. We'll follow chronologically as our immigrant ancestors chose to leave their homes, settle in Iowa, and added their ethnic contributions to our unique state history.
John Liepa is Professor Emeritus of History and Political Science at Des Moines Area Community College (DMACC.) He taught courses in Political Science, U.S., and Iowa History from 1972-2010. He has a B.S in History and an M.A. in Political Science from Iowa State University. He received an "Excellence in Education" award in 2001 and was honored as DMACC's "Educator of the Year" in 2004. He served five terms on the State Historical Society of Iowa's Board of Trustees from 1998 – 2113, having served both as Chair and Vice-Chair; and, on the Iowa Historical Foundation, the fundraising arm of the State Historical Society of Iowa. Since retiring, he has taught courses for the Senior College of Greater Des Moines on "Iowa's Role in the Civil War," Iowa's Ethnic Heritage," and the "Early History of Baseball in Iowa." John has been a 22-year member and Program Chair of the Des Moines Civil War Roundtable.
Register on Eventbrite or by calling the museum at 563-322-8844.