Hopeful Journeys: German Immigration, Settlement, and Political Culture in Colonial America, 1717-1775
April 8 @ 2:00 pm

-

3:00 pm

Free – $5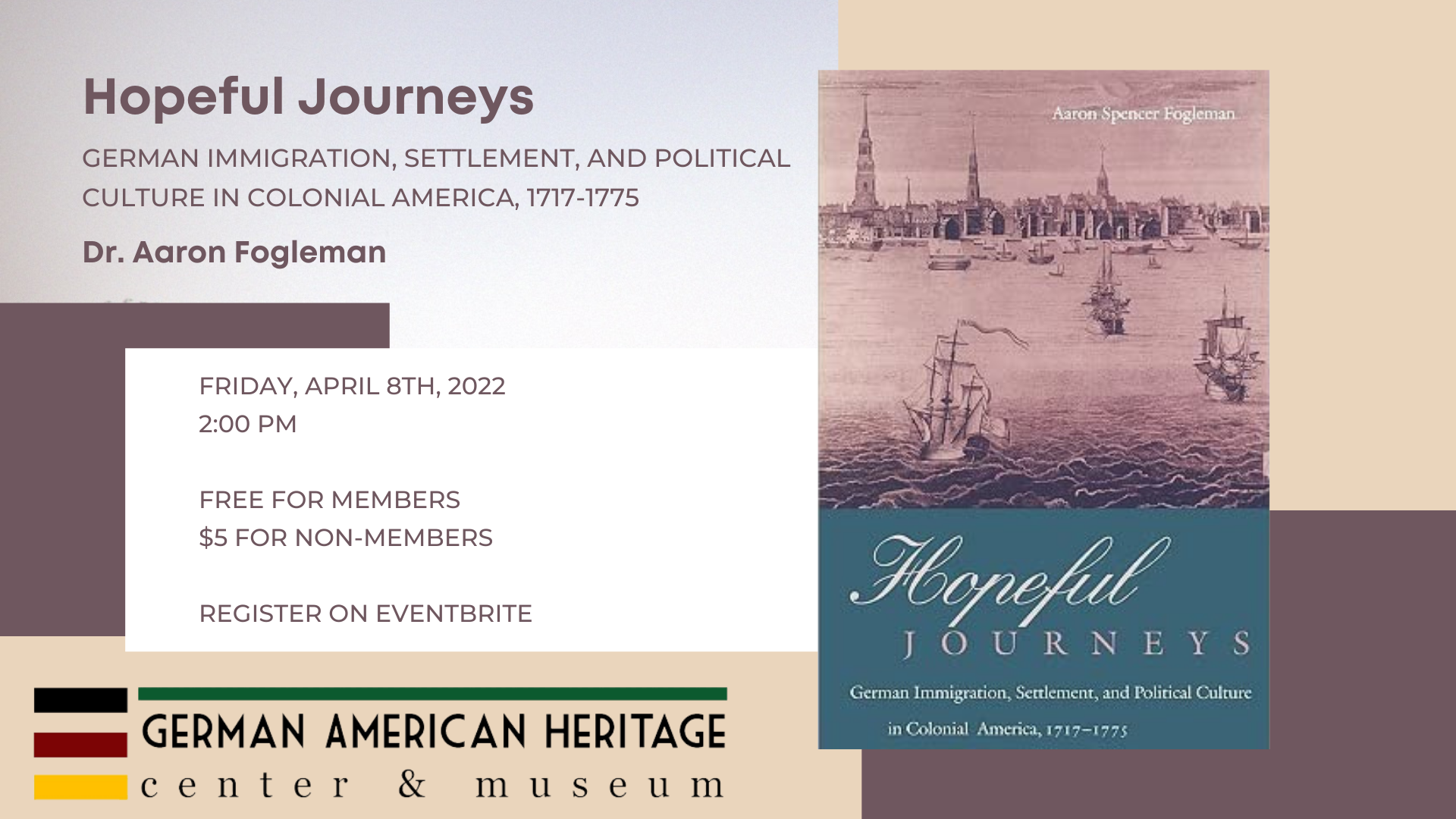 Join us for an in-person presentation by Dr. Aaron Fogleman as he discusses material from one of his books, Hopeful Journeys: German Immigration, Settlement, and Political Culture in Colonial America, 1717-1775.
This is the first comprehensive history of this eighteenth-century German settlement of North America. Utilizing a vast body of published and archival sources, many of them never before made accessible outside of Germany, Fogleman emphasizes the importance of German immigration to colonial America, the European context of the Germans' emigration, and the importance of networks to their success in America.
Aaron Spencer Fogleman is a Distinguished Research Professor in the History Department at Northern Illinois University. His research and teaching interests include forced and free transatlantic migrations, revolution, slavery, religion, and gender in the Atlantic World and Early America. He previously taught at the University of South Alabama and has been a Guggenheim Fellow, Distinguished Fulbright Chair at the Goethe University in Frankfurt, and an Alexander von Humboldt Fellow at the Max Planck Institute for History in Göttingen. He received the PhD from the University of Michigan in 1991, the M.A. from Albert Ludwigs University in Freiburg, Germany, and the B.A. from Oklahoma State University. In addition to compiling and co-editing Five Hundred African Voices: A Catalog of Published Accounts by Africans Enslaved in the Transatlantic Slave Trade, 1586-1936 (Philadelphia: American Philosophical Society, forthcoming 2022) he is also completing a monograph about four centuries of forced and free transatlantic migrations tentatively entitled "Immigrant Voices." Aaron is from Burlington, North Carolina and now lives with his family in Batavia, Illinois.
This program is free for members and $5 for non-members
Register on Eventbrite