European Christmas Markets & Traditions
November 30, 2019 @ 2:00 pm

-

3:00 pm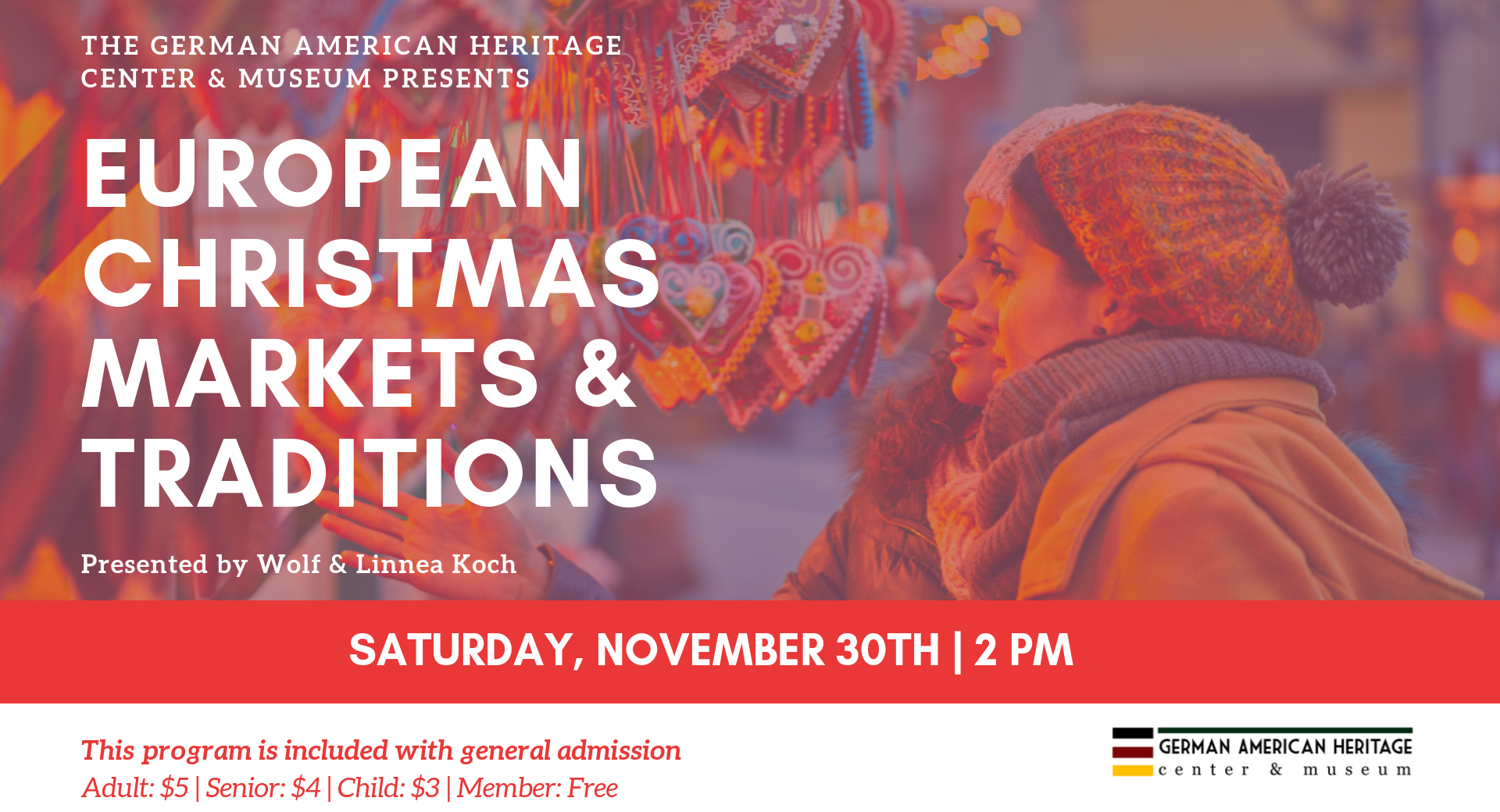 Join us on Saturday, November 30th at 2pm for "European Christmas Markets & Traditions" presented by Wolf & Linnea Koch.
Farmers Markets in the cities and small towns of Europe date back many centuries and evolved into today's Christmas Markets during the holiday season. First records of Christmas Markets date to 1296 for the Dezembermarkt of Vienna and 1310 for the Nikolausmarkt in Munich; the markets became regular holiday season events in most cities during the early 1900s. The best known market, Nürnberg's "Christkendleinsmarck," dates back to 1697 and has more than two million visitors annually, while several different themed markets in Cologne see in excess of five million visitors. It is estimated that Germany hosted about 2500 Christmas Markets in 2017.
While visiting one of the mega-Christmas Markets is certainly interesting since they offer a wide variety of food, drinks, entertainment and Christmas programs throughout the Advent season, visitors generally wil find a much more relaxed, congenial atmosphere in the many small-town markets throughout the German-speaking regions. Many of these markets will operate for only a few days and "Share" vendors, who will set up their booths for several days in one town and travel on to the next between the first Advent Sunday and the day before Christmas Eve. The markets are full of colors, lights, traditional foods and music, and best of all, regional crafts: the sights and sounds are sure to put visitors in the Christmas Spirit.
We will visit the large Christmas Markets of Cologne, Nürnberg, Freiburg and Basel (Switzerland) and travel to the small Black Forest towns of Saint Blasien and Waldshut. The market stalls offer various Christmas food specialties and crafts that are specific to the city or region. Store windows display both traditional and modern holiday decorations and gift ideas. We will also present long-standing Christmas traditions such as visits by St. Niklaus on December 6, Advent wreaths, Christmas pyramides, Herrnhuter Sterne (Stars) and Christmas Stollen. The program ends with a visit to the German Christmas Markets in Chicago and suburban Naperville.
Wolf Koch grew up in the Rhine Valley in Oberwinter, a small town dating back to 886, located halfway between Cologne and Koblenz. He has previously prepared presentations commemorating the end of World War II, the 500-year anniversary of the Reformation, and covered various local historic as well as photography topics. He and his wife Linnea travel extensively; their interest in history has taken them to many historical sites in European countries, covering the period between the Stone Age and medieval times. Locally, they have been studying accounts of the Hopewell civilization, have traveled to many mound builder sites in Ohio, Iowa and Illinois and given many talks on the Hopewell civilization in the Rock River Valley. Dr. Koch, a Sterling resident, is a consultant to the oil and petrochemical industry and has been a professor of chemical engineering. Linnea Koch, a graphic designer specializing in exhibit design and interpretive signage is an accomplished photographer. Together, the Koch's have given many presentations on historic topics and photographing birds and other wildlife; they also teach photography seminars and multi-session photography courses.