Berlin: Before and After the Wall Fell
October 12, 2019 @ 2:00 pm

-

3:00 pm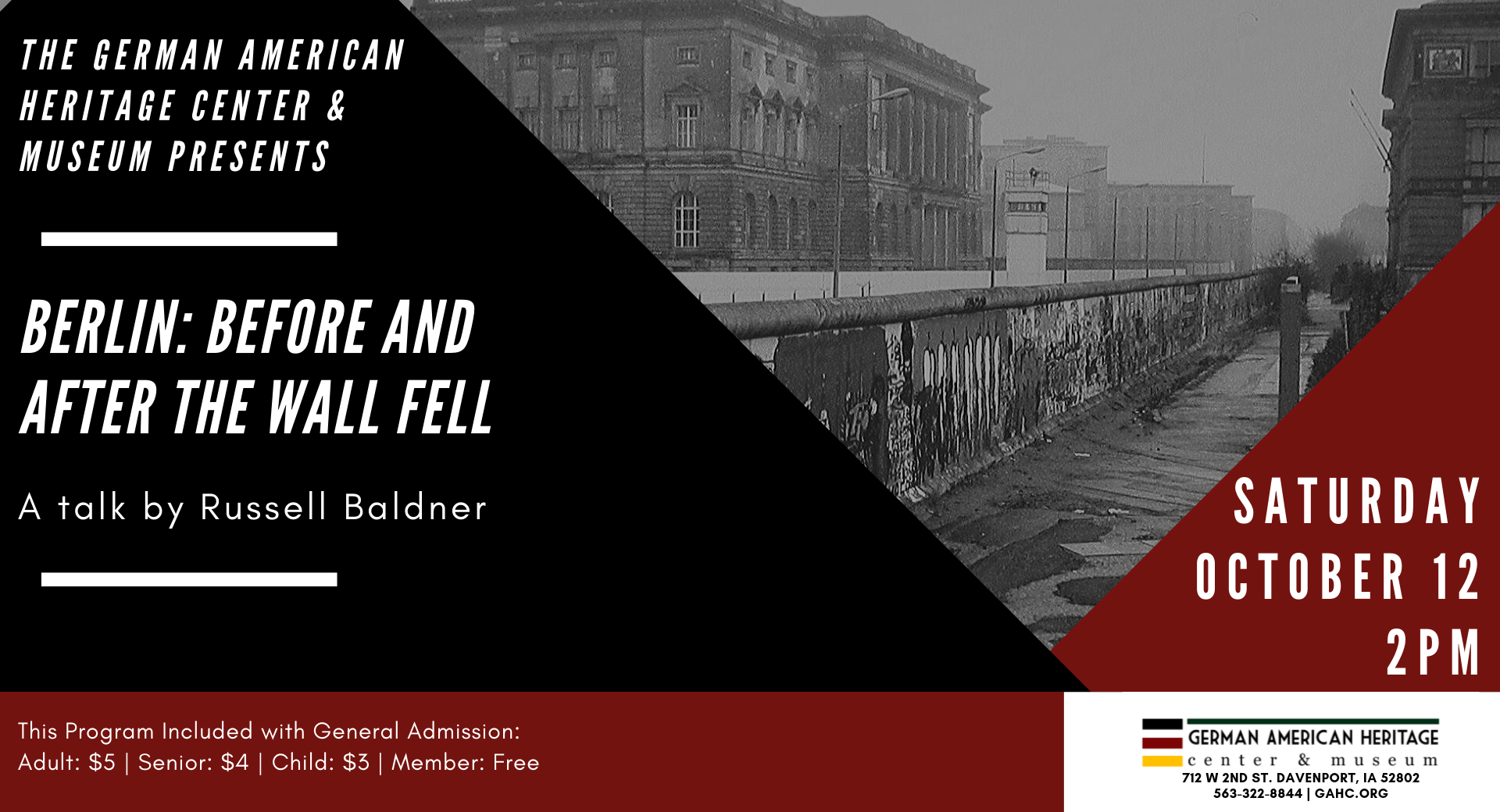 Join us on Saturday, October 12th at 2pm for "Berlin: Before and After the Wall Fell" presented by Russell Baldner.
Set in the context of pre- and post-World War Germany and the Cold War, the richly illustrated Berlin presentation features interpretive historical commentary and personal photography of Berlin and the infamous Berlin Wall in 1969 (eight years after the wall was erected), compared with many of the same, contrasting locations today. Also included are Sunday morning Gottesdienst (divine worship) at Kaiser Wilhelm Gedächtniskirche (Emperor William Memorial Church); the historic and beautifully restored Reichstag national capitol building and dramatic ascent of its spectacular, new, sparkling glass dome; the iconic Brandenburger Tor (Brandenburg Gate); poignant Memorials to the Murdered Jews of Europe, and Victims of War and Dictatorship; additional sites of historical interest on a stroll along Unter den Linden (Under the Linden Trees), Berlin's Main Street, across the heart of the city; and a little light-hearted Berlin fare, both historical and current. The Berlin presentation concludes on a reflective note with historical ironies and prophetic words – including those spoken five days after the erection of the wall – and photographs which require no further comment.
Russell Baldner holds BA and MA degrees in History, did graduate study in German and Archaeology, lived in his great-great-grandfather's birthplace on his first visit to Germany, and specializes in the history of Germany, Lutheran and ethnic German history, historical documents drafter in archaic, seldom read, German cursive script, genealogy, and Native American archaeology. By profession an educator, Baldner formerly taught German and history. His research publications include nineteenth-century German Lutheran historical and archaic cursive manuscript studies and several publications on the Late Prehistoric Native American rock art legacy (petroglyphs and pictographs) of northeast Iowa. Baldner is a frequent public speaker, presenting on a wide range of archaeological and historical subjects, including "The War Within: World War I and the Assault on German-American Identity in Iowa," presented in April 2019 at the 43rd Annual Symposium of the Society for German-American Studies in Madison, Wisconsin.
This program is included with General Admission:
Adult: $5 | Senior: $4 | Child: $3 | Member: Free